Welcome to Ron's Organics, Inc.
Ron's Organics, Inc. is a customer oriented company with a passion for unique organic landscape design. We can handle all of your landscape needs, managing the project from concept through to completion.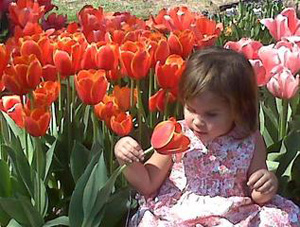 We believe in taking care of our environment, one yard at a time. We practice organic methods for lawncare, landscape and garden applications that are safe for children, pets and the environment. We believe we must be good stewards of the land, much like the Haida Indians who believed: "We do not inherit this land from our ancestors; we borrow it from our children."
You may be asking yourself why you should make the effort to come see us. Like most organic garden centers, we offer all the brand-name products "The Dirt Doctor" Howard Garrett, recommends. And we have friendly, knowledgeable staff ready to help you make the best decisions.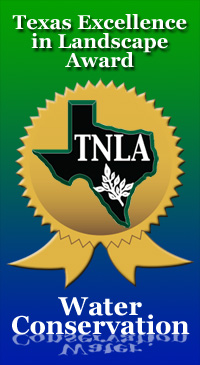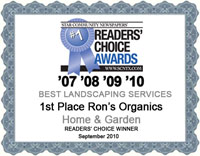 The Mesquite News Star has issued it's Readers' Choice Awards for 2010. We received the BEST LANDSCAPING SERVICES Award for 2010. Thank you to all the voters who voted for us and all our loyal customers. We TRULY appreciate your business!
Please take a moment to browse through our website. Read about Ronís 7 Steps to Organic Dynamics. Under the Portfolio section, you will find beautiful examples from some of our latest landscape projects. Our design solutions are both elegant and affordable.
Here at Ron's Organics, Inc., we take pride in a job well done, and because of our dynamic soil mediums and solutions, we know you will enjoy what we can do for you for many years to come!